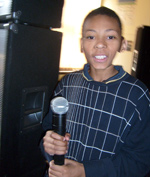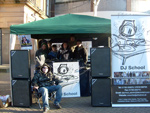 Robbie Saved the DJ School now the DJ School Saves Music for Prosperity...
21st January 2008

The DJ School Association has won funding from the Heritage Lottery to carry a unique project with young people from across Staffordshire. The project, a music documentary film, will chart popular music and youth culture post Second World War right through to the millennium and its impact on the area. The DJ School will be working in conjunction with Stoke-on Trent Archives, the National Trust, Verbal Arts, Junction 15 film company, artists and musicians such as Gary Oliver, Sarah Armitt and Si Waite, and many other local societies and groups.

The DJ School Association began in 2005 and grew out of the DJ School project delivered and initiated in 2002, by community urban arts group Verbal Arts and funded by Youth Music. The overwhelming success of this project led to the DJ School Project's expansion in 2004, seeing two more schools join the original DJ School in Hanley. Since its creation the DJ School has earned a reputation for delivering a high quality project for emerging young artists. The DJ School works with disadvantaged and marginalized young people across Staffordshire to engage with them in the art of DJ-ing, Rap, Music Tech, Dance and Performance providing training, courses and activities with the aim of building confidence, a means for young people to express themselves creatively and to guide participants into launching a career in the arts and music industry.

The Music Saved My Life Project was the idea of young people who attended the DJ Schools across North Staffordshire and will be developed and created by participants from the DJ School, Local Schools and members of the public, culminating in a series of showcase events through out Staffordshire in 2009, where the film will be offically launched .

The Music Saved My Life Project will consist of workshop sessions for the public in film production, presentation skills and music production taking place along side research into post Second World War music genres and their accompanying youth cultures from which material will be used to produce the CD sound track and DVD documentary film. The workshops will be open to all ages and will take place at the Urban Arts Centre in Shelton from February every Saturday afternoons, Tuesday evenings and Thursdays afterschool.

The projectís aim is to provide a valuable resource for the people of Staffordshire and to provide participants with the creative ability to develop themselves in Music, Film and Presentional Skills.