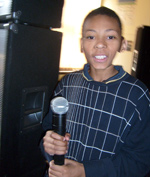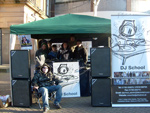 DJS PUT THE SPIN ON CITY'S HERITAGE

KATIE COOKSEY

28 January 2008

Staffordshire's musical heritage is to be charted in a £25,000 documentary film project by young DJs.

People involved in the music scene at any time since the Second World War are being asked to contribute anecdotes and information, which will be used to create a DVD.

Music lovers are also being asked to tell personal stories of how music has affected them as part of the Music Saved My Life project led by The DJ School Association.

Organisers hope the DVD, which will be researched and recorded over the next 18 months, will provide a valuable resource for people interested in local music and youth culture.

Sarah Armitt, of the DJ School, said: "The idea is to get young people to interview key music figures to uncover the history of the area's popular music, and record music in the different styles.

"People interested in film-making, music technology, writing, interviewing performing and research will be able to get lots of experience.

"We're looking for people that went to clubs in the 60s, 70s and 80s - characters, bands, promoters involved in scenes from punk to rave to tell us their stories and show how music has helped people. Robbie Williams and Alvin Stardust are the obvious success stories but we want to get a rounded view of the music industry and give young people something to aim for.

"It will give them an idea of where the music they like has come from, how styles change and how diverse the Staffordshire culture is."

The DJ School is teaming up with Stoke-on-Trent Archives, the National Trust, Verbal Arts, Junction 15 film company and local artists and groups on the scheme. The Heritage Lottery funding will go towards a video recorder, film editing software and transport for those involved. A CD of the different musical styles throughout the decades will be recorded by DJ School members and local artists.

The whole package will be unveiled at a showcase event in 2009. The 40-minute DVD will then be available at libraries around Staffordshire.

The DJ School, created by Gary Oliver, pictured below, who has performed under the name DJ Ragga, was last year was saved from closure by a £30,000 grant from Robbie Williams's Give it Sum fund.

Harry Eardley, a 17-year-old DJ at the school, believes documenting the area's musical history is important and hopes the project will get more young people involved in music.

Harry, whose DJ name is "Harrye", says his life has been transformed since joining the DJ School at the age of 14. He said: "I am taking part in the DVD to tell how music saved my life. I was going down the road to nowhere, getting into crime, and believe I would have ended up in jail if the school hadn't come along. I hope the project will get more local kids involved and wanting to become DJs so it can help them like it's helped me.

"I am also planning to research the history of the hardcore scene and mix tracks from each era for a CD."

Harry is now starting a career as a professional DJ.

Organisers are looking for up to 100 young people to get involved in the project.

Anyone interested is invited to an introductory event at the Victoria Hall on February 15 from 4pm.

For details contact the school on 01782 205675.