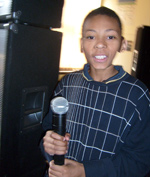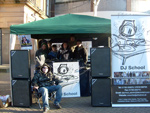 'IT GETS THEM OFF THE STREETS...'
20 January 2008
Henry McLeod, aged 12, who lives in Scholar Green, said: "The DJ School is a good idea as it's against anti-social behaviour, and gives young people good opportunities. We are trying to get other people to join."Liam McGuinness, aged 13, from Tunstall, said: "My mate started at the DJ School and I joined after. I really enjoy it. It's brilliant that we are promoting it in this way, because of what it offers young people."

Harry Eardley, aged 17, who lives in Tunstall, said: "As part of Respect week we wanted to promote DJ School. We are trying to get more young people involved in this kind of activity."

Robert Clark, aged 16, of Kidsgrove, said: "It's a good idea to get kids involved. It gets them off the streets and stops them fighting and drinking.

"It's very easy to get drawn into anti-social behaviour, and this is a great alternative."