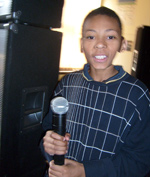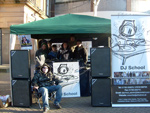 RAPPING TO BEAT BULLIES
20 January 2008
Pupils have written and performed a rap complete with an anti-bullying message to fellow schoolchildren.

The youngsters at St Mark's Primary School, in Shelton, Stoke-on-Trent, have been working on the project for weeks, and received help from rapper and poet Gary Oliver.

Their Respect Rap was performed at the school last week, while youngsters from Gary's DJ School entertained shoppers at the Potteries Shopping Centre, in Hanley, on Saturday. It was arranged as part of Respect week, in Shelton, which saw police and council officers spruce up the community.


School learning mentor Belal Mohammed, who brought in Gary from Verbal Arts and the DJ School to help them create the track, said: "One of the key themes we are looking at as a school is respect; how young people understand and deal with respect and how they receive respect. Unfortunately, in today's society respect is sometimes viewed in a negative way - violence or bullying."

Former DJ Gary said: "This is about trying to get young people to know the meaning of respect as a two-way thing.

"We have spent two days with the children and they have been fantastic."

Youngsters helped create the rap by coming up with their own sections.

Ten-year-old Sam Aniglo, of year six, said: "All the children had to make their own bits up and we added it together. My part is about respect and what I feel."

Year four pupil Ibraheem Rafeeq, aged eight, said: "My part of the rap was about stopping bullying and delivering respect."

Headteacher Samantha Cross was delighted with the pupils' efforts.

She said: "Children have been learning about respecting themselves and others.

"We don't have a problem with bullying, but every school has an element of children who do not get on."

Has your school done something special?