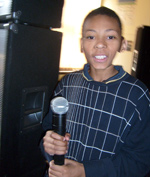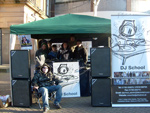 First Kids Karnival a Roaring Success!
The first of two Kids Karnivals held in Etruria Park this year was a massive success - and not just because of the amazing weather.


Children and famillies from all over the Stoke-on-Trent area joined us for almost 5 hours of sun, fun and activities, including live performance from the youths of the DJ School, adult entertainers from Verbal Arts, the Northern School of Tai Chi Chuan and local dance troop The Beartown Belles.

Children of all ages spent time making badges with the Badge Pirates, creating glitter-masks in the arts & crafts tent, had a go on a potter's wheel and enjoyed a Punch & Judy show. For those who still felt energetic, even in temperatures above 25 degrees, there was plenty of interest in quad-biking, bouncy castles and dancing to the local DJs.

In a moving tribute to Michael Jackson, who died just 3 days earlier, children as young as 3 got up and performed the 'Thriller' dance for the crowd alongside dancers from Studio #1.


It's been a fantastic day," said Gary Oliver, founder of Verbals Arts and The DJ School. "All the performers and events today have been organised by the kids from DJ School, in order to give back something to the community and they've really done us proud. I think people have seen a whole new side to this very underused park today."

Local Councillor Zufigar Ali opened the day's events, paying tribute to the local resident's associations who had come along to help out, and said that he was pleased to see so many local families supporting the event and using the park for its intended purpose.

More pictures from the day



Let's hope the weather is just as good for our second event on 19th July, which will be even bigger and better!